Lithography
NNF Staff Contacts : Greg Allion and Jim Mitchell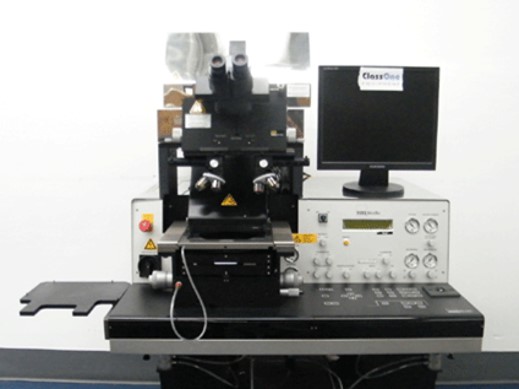 Suss MA6/BA6 Contact Aligner
Minimum Feature Sizes :2um
Samples : 10mm Pieces to 1-6″ Wafer (Thickness 200um to 4mm)
Front Side and Back Side Alignment
Mask Holders : 4″, 5″, and 7″
Sample Holders : 3″ Vac Chuck, 4″ Vac Chuck, 4″ Wafer, and 6″ Wafer
Modes : Flood, Proximity, Soft, Hard, and Vac Contact
Exposure calibration checks:
UV energy and uniformity is checked biweekly and adjusted if needed. 
We calibrate the lamp output to the i-line (365nm) channel. The i-line intensity is checked to be 10.0 +/- 0.2 mW/cm2 with a calibrated hand held meter and the power supply is adjusted if needed so the output is accurate. Uniformity is checked and adjusted if needed to be better than 5% across a 4″ area. 
*Note, this is a broadband exposure system. We only calibrate the i-line, but the other line intensities track accordingly. The total energy output is closer to 45mW/cm2 if adding all the relevant wavelengths.*
View Current Calibration Data Here. 
GCA 5X Reduction i-line Stepper
Minimum Feature Sizes : 0.6um
Registration better than 500nm
Samples : 10mm Pieces – 6″ Wafer (Minimum Sample Thickness 350um)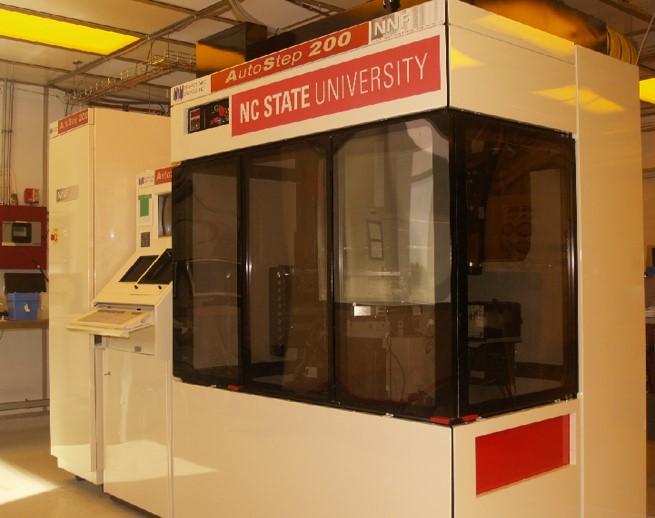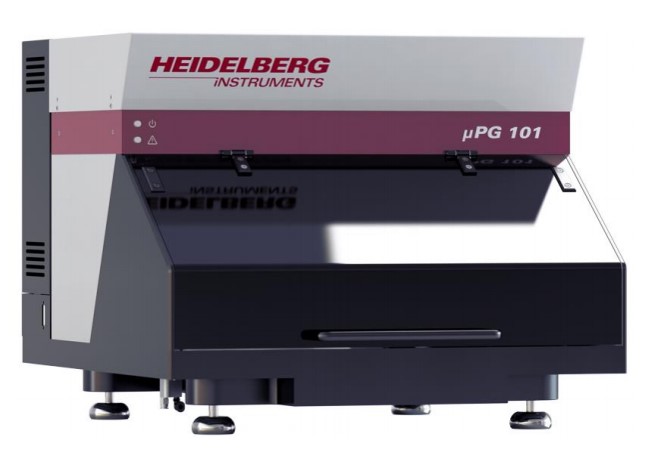 Heidelberg uP-101 Direct Write Lithography
Minimum Feature Sizes : 0.8um
Samples : Pieces to 6″ x 6″ Sample
375nm UV Diode Laser for Positive and Negative Photoresists including SU8
Mask Writing for MA6 and GCA
Grayscale Exposure Mode 3D Lithography
System calibration checks:
Laser energy and system focus are checked monthly and adjusted if needed. 
This baseline process is calibrated for writing photo masks.  Commercially purchased, pre-coated blank mask plates are exposed using a dose and focus matrix.  The mask plate is then developed, etched and inspected to find the optimum energy and focus.  The smallest features are then measured to make sure they are accurate to better than 100nm of the targeted dimensions.
View Current Calibration Data Here.
Raith150 Two Ebeam Lithography
Minimum Feature Sizes : 10-20nm
Samples : Pieces – 6″ Wafers
Low kV Exposure and Imaging with Inlens SE Detector with BSE Detector Option
Accelerating Voltage up to 30kV
20 MHz Digital Pattern Generator
Stitching and Overaly Accuracy about 35nm